Flight of the navigator DVD
Omschrijving:
8715664016107

After a mystifying disappearance aboard a spectacular, futuristic spacecraft, David Freeman returns to earth possessing vast, undiscovered knowledge about the farthest reaches of the universe. With these sudden navigational powers, David is able to take the fantastic flying machine anywhere he desires.
DVD is beschikbaar in de Mediatheek.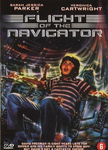 Auteur:
Randal Kleiser
Keywords:
Fantasy
,
Sciencefiction
Relevant: