The Snow Goose / The Small Miracle GAL1
Omschrijving:
The Snow Goose: Philip, a hunchback and artist, lives in an abandoned lighthouse, all alone except for the flocks of geese that migrate during the cold winter months. Then one day, a young girl from the local village brings him a snow goose wounded by a gun shot...

The Small Miracle: In Assisi, which lies wrapped in the tinted Umbrian landscape, Violetta, Pepino's beloved donkey, falls dangerously ill. Inspired by the example of the great and gentle St Francis, the frantic little boy turns for help to his priest.
Boek is beschikbaar in de Mediatheek.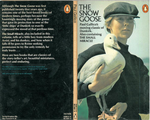 Auteur:
Paul Gallico
Keywords:
Literaire fictie algemeen
Relevant: