Fry's Planet Word DVD
Omschrijving:
Beschrijving
The way you speak is who you are and the tones of your voice and the tricks of your emailing and tweeting and letter-writing, can be recognised unmistakably in the minds of those who know and love you . (Stephen Fry). From feral children to fairy-tale princesses, secrets codes, invented languages - even a language that was eaten - Planet Word uncovers everything you didn't know you needed to know about how language evolves. Learn the tricks to political propaganda, why we can talk but animals can't, discover 3,000-year-old clay tablets that discussed beer and impotence and test yourself at textese - do you know your RMEs from your LOLs? Meet the 105-year-old man who invented modern-day Chinese and all but eradicated illiteracy, and find out why language caused the go-light in Japan to be blue. From the dusty scrolls of the past to the unknown digital future, and with (heart) the first graphic to enter the OED, are we already well on our way to a language without words? In a round-the-world trip of a lifetime, discover all this and more as J.P. Davidson travels across our gloriously, endlessly intriguing multilingual Planet Word.

Engels gesproken en ondertiteld
2 dvd's

EAN 5051561034916
DVD is 2 keer beschikbaar in de Mediatheek.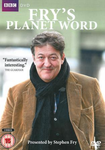 Auteur:
Stephen Fry (presentatie)
Keywords:
informatief wetenschap
Relevant: