Jazz Seen SISO 758.6
Omschrijving:
SISO 758.6

Overview
Photographer Bill Claxton has been capturing the jazz scene since he was just a kid back in the late '40s, and over the course of those five decades, he's captured just about all the giants of the art form, from Louis Armstrong to Charlie Parker and Thelonious Monk. Jazz Seen collects these memorable images that capture the giants behind the music. In this excerpt from the introduction to the book, Claxton recalls how he came to be captivated by the two disparate art forms of jazz and photography.
Boek is beschikbaar in de Mediatheek.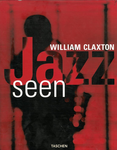 Auteur:
William Claxton
Keywords:
informatief kunst
Relevant: