The River PAU 2
Omschrijving:
Beschrijving

"We want you to do it again."
These words, spoken to Brian Robeson, will change his life. Two years earlier, Brian was stranded alone in the wilderness for fifty-four days with nothing but a small hatchet. Yet he survived. Now the government wants him to do it again -- to go back into the wilderness so that astronauts and the military can learn the survival techniques that kept Brian alive.
This time he won't be alone: Derek Holtzer, a government psychologist, will accompany him to observe and take notes. But during a freak storm, Derek is hit by lightning and falls into a coma. Their radio transmitter is dead. Brian is afraid that Derek will die of dehydration unless he can get him to a doctor. His only hope is to build a raft and try to transport Derek a hundred miles down the river to a trading post -- if the map he has is accurate.

(vervolg op: 'Hatchet'
Boek is beschikbaar in de Mediatheek.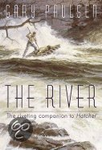 Auteur:
Gary Paulsen
Keywords:
jeugdliteratuur
,
Spannende boeken algemeen
,
Psychologisch
Relevant: