The Turn of the Screw JAM 8
Omschrijving:
The Turn of the Screw tells the story of a young governess sent to a country house to take charge of two orphans. Unsettled by a sense of intense evil in the house she soon becomes obsessed with the idea that something malevolent is stalking the children in her care.
Boek is 5 keer beschikbaar in de Mediatheek.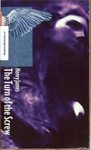 Auteur:
Henry James
Keywords:
Griezel- en spookverhalen
,
Psychologisch
Relevant: