The D-day experience, from the invasion to the liberation of Paris SISO 928.2
Omschrijving:
D-Day, the largest amphibious invasion in history, took place on 6 June 1944. The subsequent battle of Normandy involved over a million men, and helped seal the fate of The Third Reich. This is a graphic account of the planning and execution of Operation Overlord, as well as the campaign which effectively destroyed the German forces in France, opening the way for the Allied advance. Including a wealth of superb photographs and maps, the book also contains 30 facsimile items of rare memorabilia, including diaries, letters and memos, as well as an audio CD containing 72 minutes of veteran interviews, bringing this 'Day of Days' dramatically to life.

NIET UITLEENBAAR
Boek is beschikbaar in de Mediatheek.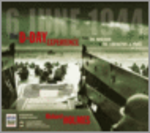 Auteur:
Richard Holmes
Keywords:
informatief geschiedenis
Relevant: