The Virgin Encyclopedia of Popular Music SISO 785.71
Omschrijving:

This is a fully updated and concise edition of the six-volume encyclopedia in one volume. With over 3000 entries the book aims to answer any query about any aspect of 20th-century popular music, including rock, reggae, rap and R&B, as well as jazz, soul, country and folk. Each entry is intended to be broad-ranging and democratically inclusive, regardless of the whims of critical fashion. Whether Bow Wow Wow or Bowie, Led Zeppelin or Lead Belly, each entry receives the same approach. Included in each entry is information on birth dates, career facts, discographies and five-star album ratings.
Boek is beschikbaar in de Mediatheek.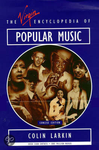 Auteur:
Colin Larkin
Keywords:
informatief muziek
,
informatief kunst
Relevant: