Anne of the Island MONT 3
Omschrijving:
niveau C

In the third book in L. M. Montgomery's Anne of Green Gables series, Anne of the Island, our protagonist leaves her teaching work in Avonlea in order to study for her B.A. at Redmond College. Living in a boardinghouse and later with old friends from Queens, she experiences a number of misadventures, including a couple marriage proposals.
Boek is beschikbaar in de Mediatheek.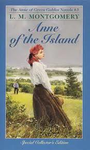 Auteur:
L.M. Montgomery
Keywords:
Literaire fictie algemeen
Relevant: