The mystery of Edwin Drood DIC 9
Omschrijving:
'In the wakeful misery of the night, girded by sordid realities, or wandering through Paradises and Hells of visions'; I loved you madly'.

Edwin Drood is contracted to marry orphan Rosa when he comes of age, but when they find that duty has gradually replaced affection, they agree to break the engagement off. Shortly afterwards, in the middle of a storm on Christmas Eve, Edwin Drood disappears, leaving nothing but some personal belongings and the suspicion that his jealous uncle John Jasper, madly in love with Rosa, is the killer. And beyond this presumed crime there are further intrigues: the dark opium underworld beneath the surface of sleepy cathedral town Cloisterham, and the sinister double life of choirmaster Jasper, whose drug-fuelled fantasy life belies his respectable appearance. Dickens died before completing Edwin Drood, leaving its tantalizing mystery unsolved and encouraging generations of readers to try and work out what happened next.

Level B
Schooledition Longmans
Boek is beschikbaar in de Mediatheek.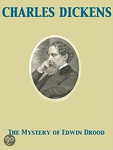 Auteur:
Charles Dickens
Keywords:
Literaire fictie algemeen
Relevant: