The Missing Video GUS 1
Omschrijving:
Follow Jeff, Mindy, and K.J. on their international adventures as the Reel Kids media club travels around the world. Each well-researched, exciting story is set in a different country, so children not only experience a page-turning adventure but also learn about the people, culture, or history of the nation in which the story takes place. A meaningful series of missionary challenge for young readers who enjoy action! Jeff Caldwell and the Reel Kids face a Cuban jail and an international incident!

Level B
Boek is beschikbaar in de Mediatheek.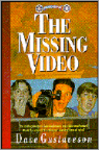 Auteur:
Dave Gustaveson
Keywords:
Avonturenroman
,
jeugdliteratuur
Relevant: