The Sun Also Rises HEM 10
Omschrijving:
The novel explores the lives and values of the so-called "Lost Generation," chronicling the experiences of Jake Barnes and several acquaintances on their pilgrimage to Pamplona for the annual fiesta and bull fights. Barnes' genitals had been mutilated as the result of an injury incurred during World War I; he is subsequently unable to consummate a sexual relationship with Brett Ashley, though his anatomy still compels him to be attracted to her. The story follows Jake and his various companions across France and Spain. Initially, Jake seeks peace away from Brett by taking a fishing trip to Burguete, deep within the Spanish hills, with companion Bill Gorton, another veteran of the war. The fiesta in Pamplona is the setting for the eventual meeting of all the characters, who play out their various desires and anxieties, alongside a great deal of drinking.
Boek is 2 keer beschikbaar in de Mediatheek.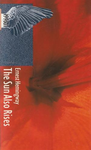 Auteur:
Ernest Hemingway
Keywords:
Psychologisch
Relevant: