The loss of the Jane Vosper CRO 1
Omschrijving:
On a dark night in the mid-Atlantic, the cargo ship Jane Vosper is rocked by explosion after explosion. Soon afterward, the ship sinks. An insurance investigation is launched, and it soon becomes apparent that the sinking of the ship was no accident.
Inspector French enters the case and begins to piece details together-including particulars of what cargo the ship was carrying. A cargo swindle is revealed-one that leads to murder. French works with precision, ever conscious that unnecessary delay may lead to additional killings.
The background detail in this novel is particularly good, and French is in top form, always playing fair with the reader and making us privy to his private thoughts. French is likable, a pleasant, unassuming man with none of the sometimes unfortunate affectations of other popular classic sleuths.
This book � and most of Crofts� others � presents no real challenge to the reader in terms of outwitting the detective and solving the case first. If anything, we feel that we are being taken by the hand and led on a genteel journey through the routine of a careful and dedicated investigator.

Niveau C
Boek is beschikbaar in de Mediatheek.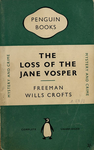 Auteur:
Freeman Wills Crofts
Keywords:
Literaire fictie algemeen
Relevant: