On the road KER1
Omschrijving:
On the Road is a novel by American writer Jack Kerouac, written in April 1951, and published by Viking Press in 1957. It is a largely autobiographical work that was written based on the spontaneous road trips of Kerouac and his friends across mid-century America. It is often considered a defining work of the postwar Beat Generation that was inspired by jazz, poetry, and drug experiences. While many of the names and details of Kerouac's experiences are changed in the novel, hundreds of references in On the Road have real-world counterparts.

When the book was originally released, the New York Times hailed it as "the most beautifully executed, the clearest and most important utterance" of Kerouac's generation.[1] The novel was chosen by TIME Magazine as one of the 100 best English-language novels from 1923 to 2005.
Boek is 2 keer beschikbaar in de Mediatheek.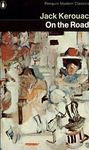 Auteur:
Jack Kerouac
Keywords:
Literaire fictie algemeen
,
Bildungsroman
Relevant: