If Beale Street could talk BALD 4
Omschrijving:
We are in Harlem, the black soul of New York City, in the era of Aretha Franklin and Ray Charles. The narrator of Baldwin's novel is Tish nineteen, and pregnant. Her lover Fonny, father of her child, is in jail accused of rape. Flashbacks from their love affair are woven into the compelling struggle of two families to win justice for Fonny. To this love story James Baldwin brings a spare and impassioned intensity, charging it with universal resonance and power.

In this honest and stunning novel, Baldwin has given America a moving story of love in the face of injustice. In a love story that evokes the blues, where passion and sadness are inevitably intertwined, Baldwin creates two characters so alive and profoundly realized that they are unforgettably ingrained in the American psyche.



Boek is 4 keer beschikbaar in de Mediatheek.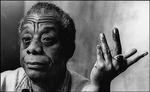 Auteur:
James Baldwin
Keywords:
Literaire fictie algemeen
Relevant: