Juggling Lessons PAG1
Omschrijving:
Eleanor's parents are divorced. When she is with her mum - who is in the circus - she is Nel, the cool 14 year old girl who loves juggling and swimming and longs for a passionate romance. When with her dad she is Eleanor, a quiet and boring person who likes watching soap operas. When Nel goes to stay with her mum in Cornwall, over the summer, the Los Diabolos, a Spanish circus act, come to stay too. Nel falls in love with one of them, Oriol, but their romance is cut short when Nel has to go back to live with her dad. And it's then that she decides to do something drastic for the first time in her life...
Boek is beschikbaar in de Mediatheek.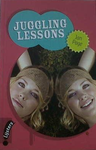 Auteur:
Jan Page
Keywords:
Literaire fictie algemeen
,
jeugdliteratuur
Relevant: