The Mind Readers ALL 2
Omschrijving:
'The real queen of crime' - Guardian . Fact catches up with fiction when the secret of telepathic communication is discovered. But the device at the centre of the mystery is in the possession of two schoolboys and whether they stole it or invented it, there are powerful interests who will kill to get hold of it. Albert Campion faces as deadly a challenge as any in his career. Also available from Vintage in the Albert Campion series: Mystery Mile Police at the Funeral ; Sweet Danger...
Boek is beschikbaar in de Mediatheek.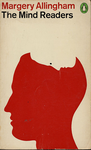 Auteur:
Margery Allingham
Keywords:
Detective
Relevant: