Parker Pyne investigates CHR9
Omschrijving:
Inspector Parker Pyne, a detective who investigates affairs of the heart, solicits his clients through the personal ads. Those who respond are a jealous wife who suspects her husband of infidelity, a lonely widow driven to assume a new identity, a distraught mother whose son is kidnapped, and the fianc of a strangely reclusive bride-to-be. Pyne finds that in each of these cases lies the darkest motives for murder.
Boek is beschikbaar in de Mediatheek.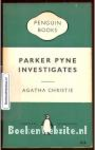 Auteur:
Agatha Christie
Keywords:
Detective
Relevant: