A Room with a View FORS 2
Omschrijving:
One of E. M. Forster's most celebrated novels, "A Room With a View" is the story of a young English middle-class girl, Lucy Honeychurch. While vacationing in Italy, Lucy meets and is wooed by two gentlemen, George Emerson and Cecil Vyse. After turning down Cecil Vyse's marriage proposals twice Lucy finally accepts. Upon hearing of the engagement George protests and confesses his true love for Lucy. Lucy is torn between the choice of marrying Cecil, who is a more socially acceptable mate, and George who she knows will bring her true happiness. "A Room With a View" is a tale of classic human struggles such as the choice between social acceptance or true love.
Boek is 2 keer beschikbaar in de Mediatheek.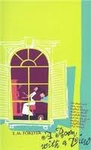 Auteur:
E.M. Forster
Keywords:
Literaire fictie algemeen
Relevant: