Where Angels Fear to Tread FORS 1
Omschrijving:
Witty, satiric and beautifully modulated, Forster's first novel skewers the moral hypocrisy of the British upper-middle class. Where Angels Fear to Tread is a comedy of manners that farcically demonstrates how a comic clash of cultural sensibilites can quickly turn to tragedy.

Beschrijving
When attractive, impulsive English widow Lidia takes a holiday in Italy, she causes a scandal by marrying Gino, a dashing and highly unsuitable Italian twelve years her junior. Her prim, snobbish in-laws make no attempts to hide their disapproval, and when Lidia's decision eventually brings disaster, her English relatives embark on an expedition to face the uncouth foreigner. But when they are confronted by the beauty of Italy and the charm and vitality of the disreputable Gino, they are forced to examine their own narrow lives, and their reactions are emotional, violent and unexpected.
Boek is beschikbaar in de Mediatheek.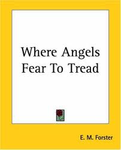 Auteur:
E.M. Forster
Keywords:
Literaire fictie algemeen
Relevant: