A Puzzle for Logan MACA1
Omschrijving:
Modern, original fiction for learners of English. Ronnie Campbell has escaped from prison and Morag Mackenzie has been found murdered. Seven years ago Morag gave evidence in an Edinburgh court that sent Ronnie to prison for murder. Inspector Logan is not sure this case is as straightforward as it seems. She returns to the original crime scene in order to find out the truth.
Boek is 2 keer beschikbaar in de Mediatheek.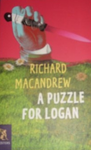 Auteur:
Richard MacAndrew
Keywords:
Literaire fictie algemeen
Relevant: