Heroes CORM 2
Omschrijving:
Francis Joseph Cassavant is eighteen. He has just returned home from the Second World War, and he has no face. He does have a gun and a mission: to murder his childhood hero.
Francis lost most of his face when he fell on a grenade in France. He received the Silver Star for bravery, but was it really an act of heroism? Now, having survived, he is looking for a man he once admired and respected, a man adored by many people, a man who also received a Silver Star for bravery. A man who destroyed Francis's life.

Young Blackbird
Boek is 2 keer beschikbaar in de Mediatheek.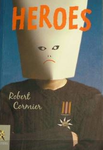 Auteur:
Robert Cormier
Keywords:
Literaire fictie algemeen
Kopen:
Amazon
Relevant: