A Judgement in Stone REN 1
Omschrijving:
"A classic."--"The London Times
What on earth could have provoked a modern day St. Valentine's Day massacre?
On Valentine's Day, four members of the Coverdale family--George, Jacqueline, Melinda and Giles--were murdered in the space of 15 minutes. Their housekeeper, Eunice Parchman, shot them, one by one, in the blue light of a televised performance of Don Giovanni. When Detective Chief Superintendent William Vetch arrests Miss Parchman two weeks later, he discovers a second tragedy: the key to the Valentine's Day massacre hidden within a private humiliation Eunice Parchman has guarded all her life. A brilliant rendering of character, motive, and the heady discovery of truth, A Judgement in Stone is among Ruth Rendell's finest psychological thrillers.
"It will be an amazing achievement if [Rendell] ever writes a better book."--"London Daily Express
"Ruth Rendell is the best mystery writer in the English-speaking world."--"Time
Boek is 3 keer beschikbaar in de Mediatheek.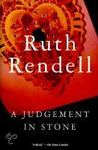 Auteur:
Ruth Rendell
Keywords:
Detective
Relevant: