The Candle Man FISH 1
Omschrijving:
Meurig is a mysterious fiddler who has recently settled in the old watchtower not far from the Sea Wall Inn where he plays at times. Conor, the son of the landlady, has met him under strange circumstances. When he and his girlfriend Sara discover his tragic secret they decide to help the man to escape the curse that is laid upon him by Hafrit, the Spirit of the Reen.
Boek is beschikbaar in de Mediatheek.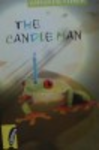 Auteur:
Catherine Fisher
Keywords:
Literaire fictie algemeen
Relevant: