Billy Liar / The Loneliness of The Long-distance Runner WAT 4
Omschrijving:
Keith Waterhouse's Billy Liar was published in 1959, and captures brilliantly the claustrophobic atmosphere of a small town. It tells the story of Billy Fisher, a Yorkshire teenager unable to stop lying - especially to his three girlfriends. Trapped by his boring job and working-class parents, Billy finds that his only happiness lies in grand plans for his future and fantastical day-dreams of the fictional country Ambrosia.

The Loneliness of the Long-distance Runner tells of Smith, a defiant young rebel, inhabiting the no-man's land of institutionalised Borstal. As his steady jog-trot rhythm transports him over an unrelenting, frost-bitten earth, he wonders why, for whom and for what he is running. A groundbreaking work, 'The Loneliness of the Long Distance Runner' captured the grim isolation of the working class in the English Midlands when it was first published in 1960s. But Sillitoe's depiction of petty crime and deep-seated anger in industrial and desperate cities remains as potent today as it was almost half a century ago.
Boek is beschikbaar in de Mediatheek.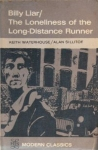 Auteur:
Keith Waterhouse / Alan Sillitoe
Keywords:
Literaire fictie algemeen
,
Verhalenbundels
Relevant: