Quiet as a Nun FRA 1
Omschrijving:
When a murder takes place in a secluded tower at Blessed Eleanor's Convent in Sussex and the victim is an old school friend, Britain's most popular TV reporter Jemima Shore finds herself in the middle of a disturbing puzzle. The dead woman, a nun, was to inherit one of the largest fortunes in Britain.
Jemima walks into the eye of a worldly storm of fear -- and the more she learns, the clearer it becomes that more lives, including her own, are being threatened.
Boek is beschikbaar in de Mediatheek.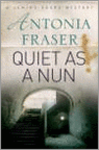 Auteur:
Antonia Fraser
Keywords:
Detective
Relevant: