The yellowcake conspiracy DAVI 1
Omschrijving:
When the Director of the Saharan uranium mine where he works is murdered, Haroun embarks on a dangerous new role as a spy. A shocking conspiracy is unearthed - somebody is smuggling 'yellowcake', a key ingredient in the production of nuclear bombs.
Boek is 4 keer beschikbaar in de Mediatheek.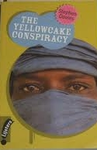 Auteur:
Stephen Davies
Keywords:
jeugdliteratuur
Kopen:
Amazon
Relevant: