Cry, the Beloved Country D-PAT 1
Omschrijving:
Level 6 (3H/V)


'When people go to Johannesburg, they do not come back.'
Cry, the Beloved Country is the moving story of two families in South Africa - one black and one white - who are brought into violent contact. From a remote valley in Natal, Reverend Kumalo sets off for the city of Johannesburg in search of his younger sister and his son.
Boek is 2 keer beschikbaar in de Mediatheek.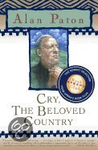 Auteur:
Alan Paton
Keywords:
Literaire fictie algemeen
Relevant: