Saturday Night And Sunday Morning SIL2
Omschrijving:
With a new introduction by Richard Bradford. Alan Sillitoe's classic novel of the 1950s, reissued to coincide with the 50th anniversary of its original publication. Working all day at a lathe leaves Arthur Seaton with energy to spare in the evenings. A hard-drinking, hard-fighting young rebel, he knows what he wants, and he's sharp enough to get it. Before long, his carryings-on with a couple of married women is local gossip. But then one evening he meets a young girl in a pub, and Arthur's life begins to look less simple! First published in 1958, 'Saturday Night and Sunday Morning' achieved instant critical acclaim and helped to establish Alan Sillitoe as one of the greatest British writers of his generation. The film of the novel, starring Albert Finney, transformed British cinema and was much imitated.
Boek is 4 keer beschikbaar in de Mediatheek.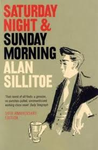 Auteur:
Alan Sillitoe
Keywords:
Literaire fictie algemeen
Relevant: