Run, Zan, Run MACP 1
Omschrijving:
Level B

Ivy turned on her. 'I told you I'd get you, didn't I? Well,' her next words sent shivers through Katie. 'Tonight's the night.' Katie is being bullied at school - and cannot get anyone to believe her. She feels frightened and alone. Until one day when she is cornered by Ivy and her fellow bullies on the town dump. Katie is terrified, there is nowhere left to run. But suddenly, as if by magic, a girl called Zan rises from the rubbish in the dump and leaps to Katie's defence. But Zan is not willing to talk to Katie - all she wishes to do is keep her identity a secret. Slowly Katies learns the truth about Zan, and when she does, she realises Zan has much more to lose than the safety of her cardboard box. A gripping story that really brings the issue of bullying to a head. This is Cathy MacPhail's first novel for children, which she wrote as a result of her own daughter being bullied at school.
Boek is 3 keer beschikbaar in de Mediatheek.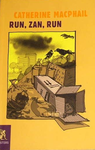 Auteur:
Catherine Macphail
Keywords:
jeugdliteratuur
Relevant: