The Mosquito Coast THE 1
Omschrijving:
Level A

The Mosquito Coast is an adventure story of a family that leaves the United States and tries to find a happier and simpler life in the jungles of Central America. The father, Allie Fox, is an individualist who is disgusted by modern American culture and wants to live a more "genuine" life. However, their jungle paradise quickly turns into a dystopia (= negative Utopia) as their stubborn father's behavior becomes increasingly erratic and aggressive.

The story is told by his fourteen year old son Charlie, who observes his father with a mixture of love, horror, and astonishment. He describes the voyage, the trip into the interior, and his father's invention of a giant ice-making machine (dubbed "Fat Boy").
Boek is 3 keer beschikbaar in de Mediatheek.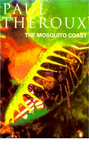 Auteur:
Paul Theroux
Keywords:
Literaire fictie algemeen
Relevant: