The Great Railway Bazaar THE 4
Omschrijving:
Beschrijving
The Great Railway Bazaar is Paul Theroux's account of his epic journey by rail through Asia. Filled with evocative names of legendary train routes - the Direct-Orient Express, the Khyber Pass Local, the Delhi Mail from Jaipur, the Golden Arrow to Kuala Lumpur, the Hikari Super Express to Kyoto and the Trans-Siberian Express - it describes the many places, cultures, sights and sounds he experienced and the fascinating people he met. Here he overhears snippets of chat and occasional monologues, and is drawn into conversation with fellow passengers, from Molesworth, a British theatrical agent, and Sadik, a shabby Turkish tycoon, while avoiding the forceful approaches of pimps and drug dealers. This wonderfully entertaining travelogue pays loving tribute to the romantic joys of railways and train travel.
Boek is beschikbaar in de Mediatheek.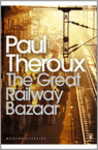 Auteur:
Paul Theroux
Keywords:
Literaire non-fictie algemeen
Relevant: