Decline and Fall WAU 1
Omschrijving:
Level A

Decline and Fall (1928) was Evelyn Waugh's immensely successful first novel, and it displays not only all of its author's customary satiric genius and flair for unearthing the ridiculous in human nature, but also a youthful willingness to train those weapons on any and every thing in his path. In this fractured picaresque comedy of the hapless Paul Pennyfeather stumbling from one disaster to another, Waugh manages the delicious task of skewering every aspect of the society in which he lived. With an Introduction by Frank Kermode Sir Frank Kermode, formerly Lord Northcliffe Professor at London University, is now Professor at Cambridge and Columbia Universities. His books include The Uses of and Continuities.
Boek is beschikbaar in de Mediatheek.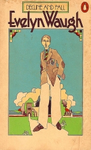 Auteur:
Evelyn Waugh
Keywords:
Literaire fictie algemeen
Relevant: