Scoop WAU 4
Omschrijving:
level A

Evelyn Waugh was without doubt one the funniest writers that 20th century Britain produced, and this is one of the best examples of his work. Written during the interwar period, the book parodies the battles of mass market Fleet Street as the rivalry between the Daily Brute and the Daily Beast.
William Boot mistaken for his travel writing cousin is sent to Africa to report on a possible coup in the independent state of Ishamlia.
Having previously only produced a nature column called lush places, Boot's journey is a superb comedy of errors. This book is not only excellent in it's own right but provides a superb introduction to the rest of Waugh's work. Waugh might be best known these days for 'Brideshead Revisited,' but his earlier comedies are for me at least as rewarding.
Boek is 4 keer beschikbaar in de Mediatheek.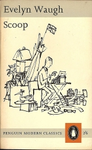 Auteur:
Evelyn Waugh
Keywords:
Literaire fictie algemeen
Relevant: