Sweet Bird of Youth / A Streetcar Named Desire / The Glass Menagerie WILLI 3
Omschrijving:
Level A

Sweet Bird of Youth
Sweet Bird of Youth is Tennessee William's atmospheric play of 1959 about Chance Wayne, the one-time heart-throb of his hometown who returns hoping to break into the movies and find the girl he loved in his youth. Accompanied by faded movie star, Alexandra Del Lago, grieving in a haze of drugs and alcohol for her lost youth, he discovers that time is shortly to catch-up with him and wreak a terrible retribution for his past actions. In its exploration of corruption, ageing and the effects of time, the play offers a magnificent study of the dark side of the American dreams of youth and fame.

A Streetcar Named Desire
Fading southern belle Blanche Dubois depends on the kindness of strangers and is adrift in the modern world. When she arrives to stay with her sister Stella in a crowded, boisterous corner of New Orleans, her delusions of grandeur bring her into conflict with Stella's crude, brutish husband Stanley. Eventually their violent collision course causes Blanche's fragile sense of identity to crumble, threatening to destroy her sanity and her one chance of happiness.
Verfilmd in 1951 door Elia Kazan.

The Glass Menagerie
Abandoned by her husband, Amanda Wingfield comforts herself with recollections of her earlier, more gracious life in Blue Mountain when she was pursued by 'gentleman callers'. Her son Tom, a poet with a job in a warehouse, longs for adventure and escape from his mother's suffocating embrace, while Laura, her shy crippled daughter, has her glass menagerie and her memories. Amanda is desperate to find her daughter a husband, but when the long-awaited gentleman caller does arrive, Laura's romantic illusions are crushed.
Boek is beschikbaar in de Mediatheek.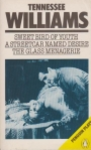 Auteur:
Tennessee Williams
Keywords:
Toneeltekst
Relevant: