That uncertain feeling AMI 6
Omschrijving:
His predator has skin the colour of top of the milk and hair the colour of tar. She is Mrs Elizabeth Gruffydd-Williams, haughty and chic Aberdarcy socialite, and she sees her next titilation in John Aneurin Lewis.

Understimulated family man, poet, wit, visionary, assistant librarian, Lewis soon finds himself peering down the front of her dress. No wonder he has that uncertain feeling. For he is peering into a bottomless abyss.
Boek is beschikbaar in de Mediatheek.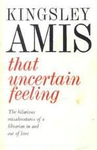 Auteur:
Kingsley Amis
Keywords:
Literaire fictie algemeen
Relevant: