The 'Caine' Mutiny WOU 1
Omschrijving:
Level B
(Longman; The Bridge Series)

The 'Caine' Mutiny is concerned with the naval war against Japan in the Pacific Ocean. It is not a true story , and the characters are all imaginary; but it gives a vivid picture of life at sea in an old minesweeper during the war.
Boek is beschikbaar in de Mediatheek.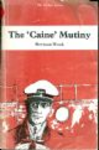 Auteur:
Herman Wouk
Keywords:
jeugdliteratuur
,
Oorlogs- en verzetsroman
Relevant: