The Quest LOA 1
Omschrijving:
At last the fishing net lay in the bottom of the boat. Lek stepped forward and opened the net. He picked up the blue and white thing that was in it. It was a plate. Lek started to laugh.
'We've caught a plate - an old plate! Shal I throw it back into the sea?' he asked Daeng.
'No, no, wait a minute!' said Daeng. 'Give it to me.' He looked at the plate carefully. 'I saw a picture aof a plate like this in the newspaper,' he said. 'The plate was very old. It was worth a fortune.'
Boek is beschikbaar in de Mediatheek.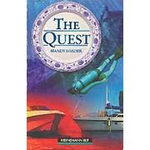 Auteur:
Mandy Loader
Keywords:
Literaire fictie algemeen
Relevant: