Freckles D-MAT 1
Omschrijving:
Penguin Readers
Level 2

Susie has freckles, and she hates them. Her best friend, Donna, has pretty hair, nice teeth and blue eyes. Donna never has problems with boys. Now there is a new boy at school, and Donna is interested. But Susie likes him too...

Ook beschikbaar met CD
Boek is 2 keer beschikbaar in de Mediatheek.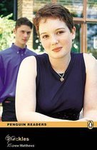 Auteur:
Andrew Matthews
Keywords:
Literaire fictie algemeen
Relevant: