The Third Angel HOF 1
Omschrijving:
This haunting, poignant and addictive story travels effortlessly across three generations and through time. Unravelling the years from the present to the 1950s, The Third Angel' is a compelling novel, set mainly in London, about girls and women who make the wrong choices and have to live with the sometimes unbearable consequences. The Third Angel opens in London in the present day, when an envious sibling comes to her sister's wedding.Their mother's illness cast a shadow over their childhood, and both Madeline and Allie are still searching for something missing in their lives. Back in the Swinging Sixties, the bridegroom's conventional English mother, Frieda, behaves in a wholly unconventional way, and the ghosts of that era still haunt all their lives and a Knightsbridge hotel. Even before that, the seeds of tragedy are sown in the Fifties, when twelve-year-old Lucy first visits London and the same hotel. Precocious, impatient, wise beyond her years, Lucy becomes a go-between for two star-crossed lovers and then holds herself agonisingly responsible for what happens...
Boek is beschikbaar in de Mediatheek.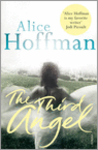 Auteur:
Alice Hoffman
Keywords:
Literaire fictie algemeen
Relevant: