A Place I've Never Been LEAV 1
Omschrijving:
This is a complete collection of moving, elegant and often witty short stories from one of America's most respected writers. Here, David Leavitt covers a range of challenging themes such as illness, grief and betrayal with his inimitable graceful touch. He takes the reader from Switzerland to San Francisco, and from a young man's attempt to contract the HIV virus to American tourists being startled by the local conventions in Italy. Bringing together Family Dancing (a finalist for both the National Book Award and the PEN/Faulkner Prize), A Place I've Never Been and The Marble Quilt , this edition affirms David Leavitt's mastery of the short-story form.
Boek is 2 keer beschikbaar in de Mediatheek.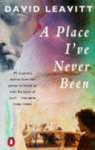 Auteur:
David Leavitt
Keywords:
Verhalenbundels
Relevant: