The Moon and Sixpence MAU 2
Omschrijving:
Based on the life of Paul Gauguin, The Moon and Sixpence is W. Somerset Maugham's ode to the powerful forces behind creative genius.
Charles Strickland is a staid banker, a man of wealth and privilege. He is also a man possessed of an unquenchable desire to create art. As Strickland pursues his artistic vision, he leaves London for Paris and Tahiti, and in his quest makes sacrifices that leave the lives of those closest to him in tatters. Through Maugham's sympathetic eye Strickland's tortured and cruel soul becomes a symbol of the blessing and the curse of transcendent artistic genius, and the cost in human lives it sometimes demands.
Boek is 2 keer beschikbaar in de Mediatheek.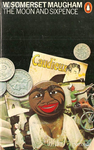 Auteur:
W. Somerset Maugham
Keywords:
Literaire fictie algemeen
Relevant: