Ten Novels and Their Authors MAU 14
Omschrijving:
Maugham's studies of the lives and masterpieces of ten great novelists are outstanding examples of literary criticism at its finest. Afforded here are some of the formulae of greatness in the genre, as well as the flaws and heresies which enfeeble it. Written by a master of fiction, Ten Novels and Their Authors is a unique and invaluable guide.
Boek is beschikbaar in de Mediatheek.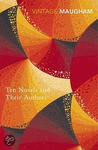 Auteur:
W. Somerset Maugham
Keywords:
Literaire essays
Relevant: