My Cousin Rachel MAUR 5
Omschrijving:
I threw the piece of paper on the fire. She saw it burn ...Orphaned at an early age, Philip Ashley is raised by his benevolent older cousin, Ambrose. Resolutely single, Ambrose delights in Philip as his heir, a man who will love his grand home as much as he does himself. But the cosy world the two construct is shattered when Ambrose sets off on a trip to Florence. There he falls in love and marries - and there he dies suddenly. In almost no time at all, the new widow - Philip's cousin Rachel - turns up in England. Despite himself, Philip is drawn to this beautiful, sophisticated, mysterious woman like a moth to the flame. And yet ...might she have had a hand in Ambrose's death?
Boek is beschikbaar in de Mediatheek.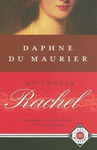 Auteur:
Daphne du Maurier
Keywords:
Thriller
,
Psychologisch
Relevant: