The Light and the Dark SNO 1
Omschrijving:
The Light and the Dark is the second in the Strangers and Brothers series. The story is set in Cambridge, but the plot also moves to Monte Carlo, Berlin and Switzerland. Lewis Eliot narrates the career of a childhood friend. Roy Calvert is a brilliant but controversial linguist who is about to be elected to a fellowship.

"A novel written with the intuition of a woman and the grasp of broad essentials generally reserved for men... As full of life as life itself" - John Betjeman
Boek is beschikbaar in de Mediatheek.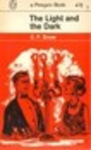 Auteur:
C.P. Snow
Keywords:
Literaire fictie algemeen
Relevant: