Billy Bathgate DOC 3
Omschrijving:
Beschrijving

To open this book is to enter the perilous, thrilling world of Billy Bathgate, the brazen boy who is accepted into the inner circle of the notorious Dutch Schultz gang. Like an urban Tom Sawyer, Billy takes us along on his fateful adventures as he becomes good-luck charm, apprentice, and finally protege to one of the great murdering gangsters of the Depression-era underworld in New York City. The luminous transformation of fact into fiction that is E. L. Doctorow's trademark comes to triumphant fruition in Billy Bathgate," "a peerless coming-of-age tale and one of Doctorow's boldest and most beloved bestsellers.
Boek is beschikbaar in de Mediatheek.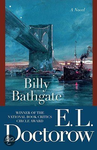 Auteur:
E.L. Doctorow
Keywords:
Literaire fictie algemeen
,
Bildungsroman
Relevant: