The Boys From Brazil LEV 1
Omschrijving:
In September 1974, a secret meeting of the Kameradenwerk (German for "Comrades Organization") is called to order in Sao Paolo, Brazil with these words, "Lasst uns jetzt Geschaft reden, meine Jungens." ("Let's get down to business now, boys.") Spoken by the Nazi Angel of Death, Dr. Joseph Mengele, they immediately bring quiet to the room. Mengele outlines a plan to his cohorts, all ex-Nazis: over the next two years, they are to travel the globe, arranging the deaths of ninety-four men in their mid sixties. Mengele assures them that their efforts will fulfill the destiny of the Aryan race.

Unknown to the participants, their meeting has been clandestinely recorded by Barry Koehler, a young American seeking to ingratiate himself with legendary but aging Nazi hunter, Yakov Liebermann. After fleeing the premises with the tape, Barry reviews its contents, then calls a confused Liebermann in Vienna (it's early morning there) to alert him. At first skeptical, alarm bells start jangling in Liebermann's mind when Barry's call is cut short after someone breaks into his hotel room. Concerned about the now missing boy's fate, and by the troubling news he delivered about Mengele's activities, Liebermann investigates, slowly uncovering the sordid details of the Kameradenwerk operation.
Boek is 3 keer beschikbaar in de Mediatheek.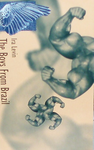 Auteur:
Ira Levin
Keywords:
Science fiction
,
Spannende boeken algemeen
Relevant: