A Kiss Before Dying LEV 2
Omschrijving:
The boy most likely to succeed is now the man most wanted for murder. A brilliant young psychopath goes from honour student, class president, and war hero to killer of his pregnant lover. Unable to stop, he gets away with murder after murder - blind to the one fatal weakness that can expose him.
Boek is 4 keer beschikbaar in de Mediatheek.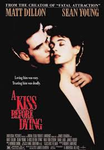 Auteur:
Ira Levin
Keywords:
Literaire fictie algemeen
Relevant: