The Rime of the Ancient Mariner SISO 738.1
Omschrijving:
Coleridge's The Rime of the Ancient Mariner is of all poems surely one of the hardest to illustrate. Its virtues - its subtle music, psychological depths, its sense of growing horror - are not those that ordinarily lend themselves to pictorial representation.
Nor would Gustave Dore (1832-1883) seem at first sight the ideal illustrator. Dore waited all his life to illustrate this poem, and when the time came he produced one of his most inspired works.
Boek is beschikbaar in de Mediatheek.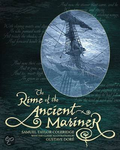 Auteur:
Samuel Taylor Coleridge; Gustave Dore
Keywords:
informatief kunst
,
Poëzie
Relevant: