The murder of Roger Ackroyd CHR5
Omschrijving:
In a quiet village, a widow's suicide has stirred suspicion that she murdered her first husband--and now her secret lover Roger Ackroyd has been found dead as well. Can Hercule Poirot find out the black widow's secret?
Boek is beschikbaar in de Mediatheek.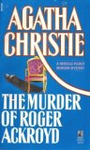 Auteur:
Agatha Christie
Keywords:
Detective
Relevant: